Town full of surprises - Kamnik
14th February 2014 at 12:38
KAMNIK
One month in Slovenia passed unbelievably quickly. When people ask me how long I have already been here, I always feel like saying "I just arrived two weeks ago..". But two weeks turned into a month and I could hardly notice that.
I've been trying to explore as much as possible while I was here, and now I'd like to write about town I live in – Kamnik.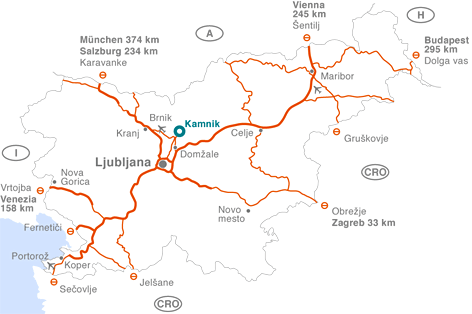 Kamnik is a relatively small town with population of about 20.000 people, it is located 20 km north to Ljubljana. I would say it is small Slovenian Tallinn, although I don't like comparing the cities :) Despite being so small, I am really surprised how many things you may discover for yourself, in it and around. So there is a quick overview of what I have found out and explored in Kamnik for the last month.
One of the first things I noticed after coming to Slovenia was how quiet and empty the streets were in the evenings. I expected little life on the streets here, especially when coming from a big city, but it was still very surprising for me. Kamnik is no exception, the town is very quiet in the evenings with the only lively bar under the Small Castle. This is something to get used to. It's hard to imagine the town crowded and full of people, so I'm really looking forward to the
KamFest
to see Kamnik full of life.
What I love the most about Kamnik is its location. I am always amazed by the views that open in front of me when I go to a new place. Kamnik is guarded by mountains from one side but at the same time gives you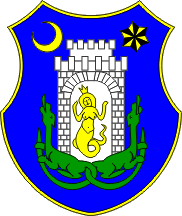 a sence of freedom with great views of lowlands on
the other.
Like every respected town, Kamnik has its legend and emblem. The story is connected with countess Veronika, half woman, half snake, that protects the hidden treasure of Mali Grad. You may see her portrayed on the coat of arms of Kamnik.
So what is there to see in Kamnik? I am going to concentrate mostly on the historical spots, which are very interesting and beautiful, but so you know, there is more to it.
Not many small towns can boast of having three castles. But Kamnik can. Let me start telling a few words about them.
Mali Grad, or Small Castle. Along with the chapel it was first mentioned in the written sources in the 12th century. The castle itself is not big and it fits perfectly into the view of the town. What will definitely surprize you when you walk up the hill is the view of Kamnik and the mountains. You would never expect to see something like this from such a small hill. :)

Zaprice Grad – my favourite spot in Kamnik.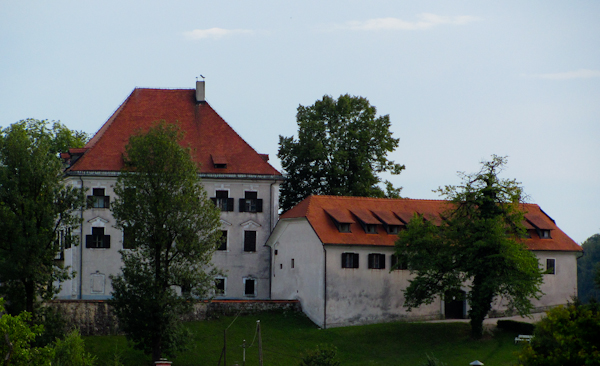 It used to be a castle, but now it is Intermunicipal museum with the remains of fortifications. There is also a small Open Air museum right near the building. What I like about the place is it's quietness and peace. You may just sit there for long time and enjoy the view of Kamnik and it will always be a place where only good thoughts would come into your mind :) Me and Seda came across some people doing Thagi or something two weeks ago. It looked very harmoneous and once again confirmed that it's a place with very nice atmosphere.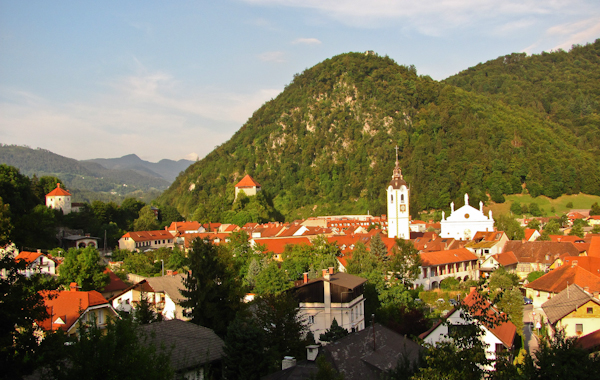 View from Zaprice. On the top of the hill - ruins of Stari Grad
Stari Grad or the Old Castle, which is actually the ruins of the castle now. It is located on a hill near Kamnik. So once you feel like climbing but not going too far away you may always go to Stari Grad. A nice path will lead you to the road to the top of the hill. A wonderful view of the mountains on the one side and of the flat lands up to Ljubljana opens once you reach the top. And after walking you may reward yourself with a cup of coffee on the top, as there is also a restaurant now.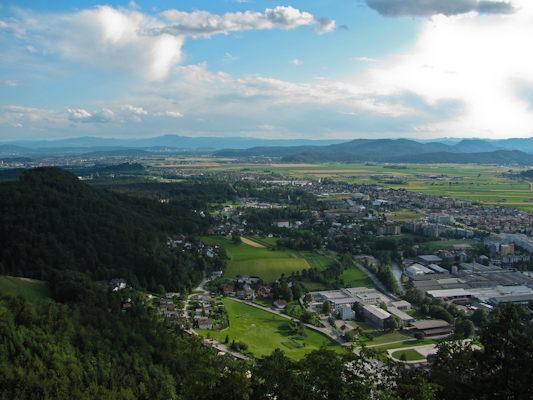 The old town. Šutna Ulica – the oldest and probably the nicest street of Kamnik is full of history. You may also wander around other cozy narrow streets without worries to get lost, just enjoying the walk.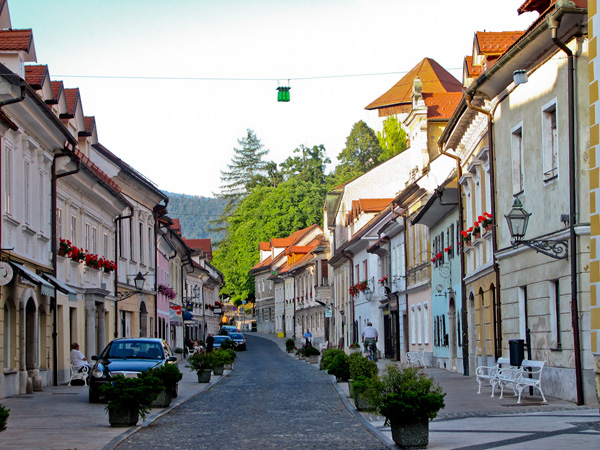 Religion has always been very important in Slovenia. Although the number of believers is declining, and now about
58%
of Slovenians are Catholics, strong presence of it may still be seen and heard from the first moments you are in the country. Like in Ukraine, here some of the main historical buildings and places to see are churches and monasteries. But each of them has a different story and interesting location with wonderful views that allow seeing the town from totally different perspectives. Here are some of them:
Šutna Parish Church
Church of St. Jusef in Žale and Calvary view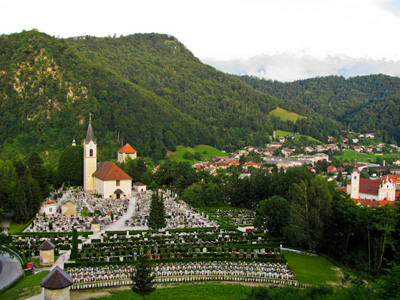 Franciscan Friary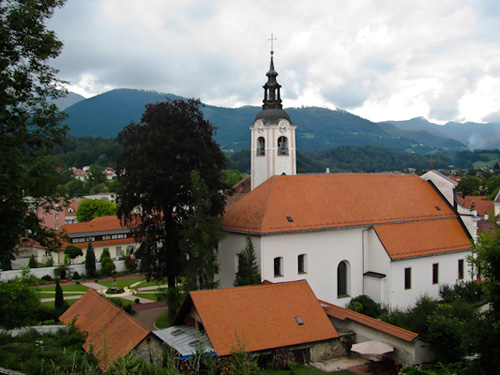 Mekinje Monastery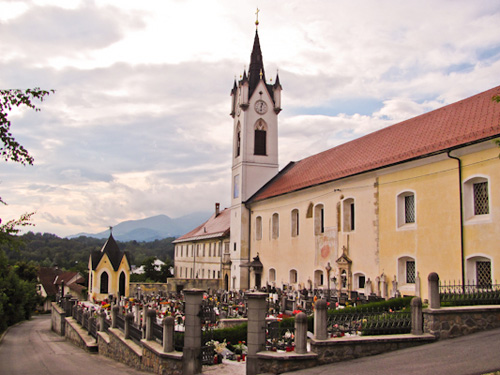 St. Nicholas Church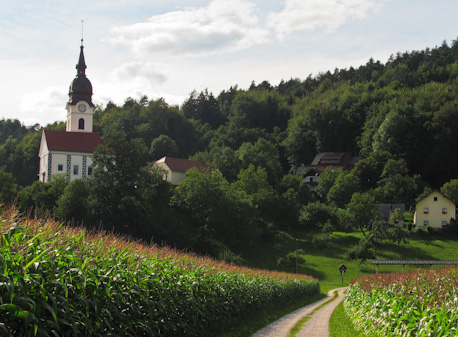 All the places in Kamnik and its location create some very special atmosphere. The town is charmed and charming at the same time. Every time I come back here from some other spot I feel like the town embraces me, not wanting to let go. May it be small and quiet but it has something inside that will keep it always alive.
If you think that is it about Kamnik, you are wrong. I still have places I would like to visit here, and if I start mentioning what one can do or see around Kamnik, it'll take forever to finish this post. So I will stop right here and maybe introduce all the other awesome places next time.
PLEASE, LEAVE YOUR COMMENT